In the world of agriculture, researchers are continually seeking innovative solutions to enhance crop production and quality. One such breakthrough comes from the fascinating world of amino acids, specifically Arginine. Amino acids are the building blocks of life, and Arginine, a powerhouse in this realm, has been proven to wield significant influence over plant physiology. In this article, we delve into the groundbreaking research on Arginine's effects on plant growth, yield, and overall vitality.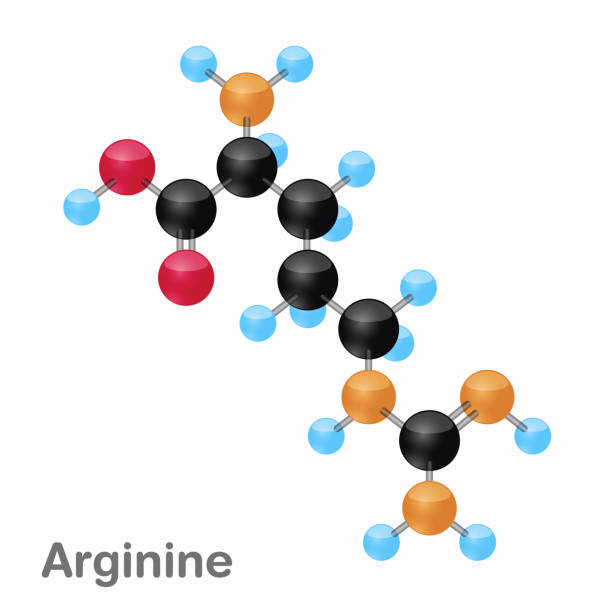 Foliage, Fruits, and Fabulous Results: The Tomato Story Arginine's prowess in promoting plant growth is well demonstrated by a study that focused on tomato plants. Researchers found that foliar application of Arginine led to impressive results. This amino acid significantly increased nitrogen concentration in both tomato shoots and fruits. This increase was attributed to three vital pathways: assimilation of Arginine as a nitrogen resource, up-regulation of key gene expression (SlNRT1.1), and stimulation of root development and activity. With nitrogen levels on the rise, photosynthesis was supercharged, resulting in robust plant growth, larger fruits, and enhanced yields. Furthermore, the treatment positively impacted tomato quality by boosting nutrient accumulation, particularly in vital compounds like lycopene and vitamin C. These findings underline Arginine's potential to revolutionize tomato production and elevate its quality.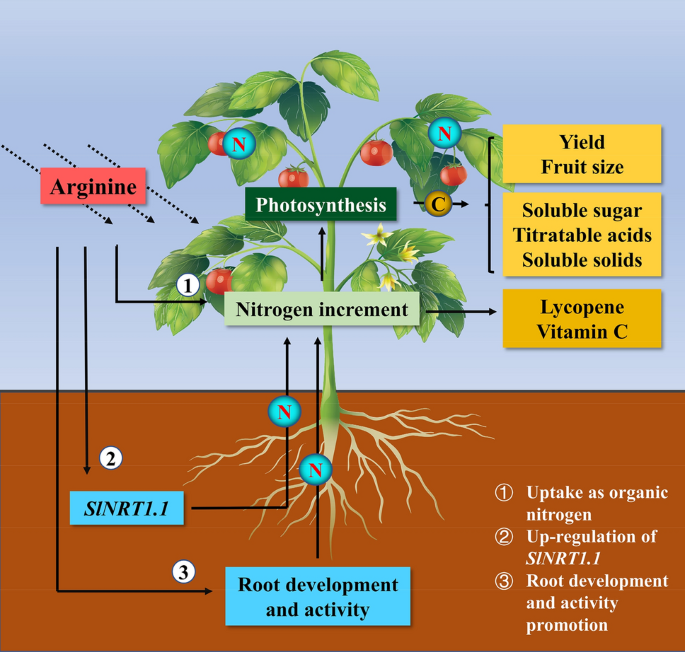 Hot Pepper's Fiery Boost: A Trio of Amino Acids The benefits of Arginine extend beyond tomatoes, reaching even fiery hot peppers. A study investigated the effects of foliar applications of Arginine, Tryptophan, and Glutathione on hot pepper plants growing in challenging sandy soils. Among the amino acids tested, Arginine stood out, triggering significant growth enhancements and yielding bountiful results. From increased ascorbic acid and anthocyanins to higher tannins, phenolic compounds, and protein content, Arginine's impact was undeniable. What's more, Arginine's role as a precursor to crucial polyamines - compounds that regulate cell division, flowering, fruit development, and more - makes it a game-changer in promoting plant health and productivity.
Polyamines: The Orchestra Conducted by Arginine The broader role of Arginine as a precursor to polyamines cannot be underestimated. Polyamines orchestrate a wide range of physiological processes crucial for plant growth and development. From embryogenesis to root system formation, flowering to gas exchange, and even stress tolerance, polyamines are integral players. Research demonstrates that Arginine's influence extends to root growth, shoot architecture, flowering, and fruit set. By enhancing these fundamental aspects, Arginine proves its mettle as a master regulator of plant vitality.
Tackling Salinity Stress: Arginine to the Rescue Salinity stress can cripple plant growth, but Arginine enters as a savior. In a study involving rice seedlings, Arginine was shown to alleviate the inhibitory effects of salinity. By applying Arginine, researchers observed improvements in seed germination, seedling fresh mass, and water content. This finding underscores Arginine's potential to mitigate the adverse impacts of environmental stressors.
A Bounty of Benefits for Vicia faba L. and Wheat Arginine's effects aren't limited to just one crop. In the case of Vicia faba L. (broad bean), Arginine treatment led to significant improvements across various growth and yield parameters, from plant height to seed protein content. Similarly, the application of Arginine or Putrescine on wheat plants displayed remarkable growth and yield enhancements, particularly in cases of delayed sowing. This underscores Arginine's potential to bolster crop productivity even in challenging scenarios.
The Prime2Bud™ Connection: Arginine's Transformational Role At Mighty Plant, we're dedicated to harnessing the power of nature to revolutionize agriculture. Our Prime2Bud™ 4-6-4 product draws its power from the amino acid Arginine, a key precursor to Polyamines. These Polyamines hold an array of benefits within plants, including inducing bud formation, aiding in flower and fruit development, and acting as vital messengers in various physiological processes. Polyamines are the heroes that regulate growth, development, and plant adaptation to stress. With Arginine as its driving force, Prime2Bud™ offers a transformational solution for optimizing plant health and productivity.
Conclusion: The amino acid Arginine emerges as an unsung hero in the realm of agriculture, with the potential to revolutionize plant growth, yield, and quality. Its influence on nitrogen assimilation, polyamine synthesis, stress mitigation, and overall plant vitality makes it a powerful tool in the hands of farmers and researchers alike. As the world seeks sustainable solutions for food production, Arginine stands as a beacon of hope, illuminating a path toward greener, more productive fields.
Sources: